By Fromgirltogirl Staffers
Here at Fromgirltogirl, we are excited that in a week our blog creator Briana Booker, will be ringing in her 22nd birthday on May 2nd(a Sunday)! In honor of this occasion, Fromgirltogirl staffers have pulled together some gift ideas we would think our boss would like! We also recommend these to our readers!
Briana enjoys a variety of foods, places, clothing and technological gadgets! We are still looking forward to what she has planned for her birthday fun! We hope it is an enjoyable one!
Read on to find out our top 5 picks we would think our boss would love for her birthday! Check them out for yourself as well!
1.
Cold stone creamery ice cream cupcakes
! Ice cream cakes are her favorite desserts. It reminds her of childhood! You can definitely get a smile from her and filling on her face when you hand her one!
2.
Emerilware deep fryer!
Right now she is having a huge fetish with deep fried goods! She has this idea that if she gets a few Macy gift cards of $10 dollars or more, she will be closer to getting that deep fryer! She plans on taking a summer day trip to a good deep fried restaurant! Where is Paula Deen when you need her?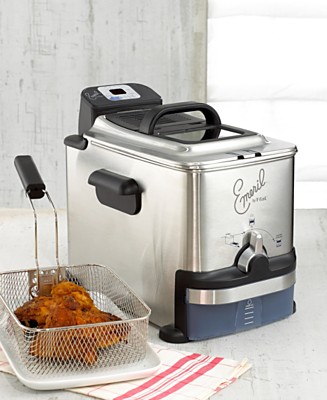 3.
Carlos Santana's Shoes Carlos.
Our boss is a huge fan of colorful and comfortable items! She enjoys flat shoes but she will also wear heels that stand out! She adores Carolos Santana's shoe line!
4.
Victoria's Secret
. This is one of her favorite stores! She worked there before,but we are sure she prefers to be a Ford Model someday. You can find her with something from Vikki's everyday, whether clothes, panties, shoes or perfumes!
5.
A finger monkey
($1000 to $2,000 bucks, definitely cooler than a wedding ring)and time with
Family, friends and the mysterious guy she adores(priceless)
! Come on, finger monkeys are too cute! As for family, they are what matters at the end of the day! What is a birthday without the people you love?
We wish her a great birthday!
What are her plans for the big day?
She is still contemplating places to eat and outings for the big day! If you know of any suggestions for cool things to do in Baltimore or Washington DC, let us know! Email us at
fromgirltogirl@gmail.com
, twitter us your suggestions at @fromgirltogirl, use our chatbox on the main homepage, or comment here!
Maybe you can hang out with us as well! :-)
Until next time,
Happy Weekend!